DIGGING DEEPER: EQUITY GAPS IN COLLEGE AND CAREER PREP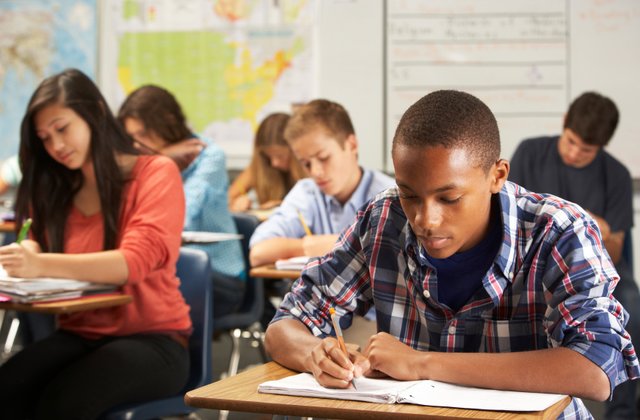 States across the nation are prioritizing both college readiness and career prep, as economists predict that by 2025, 65 percent of all jobs will require training beyond a high school diploma. Delaware is no different.  
Within the last decade Delaware has made strides to ensure college and career readiness is part of its education (and economic) strategy.  
Delaware recently integrated college and career benchmarks into the state accountability system to track how many students are successfully completing a course or training that prepares them for college or career, or both. The public can view these metrics using the Delaware School Report Cards. 
Still, equity remains elusive for Delaware—and the rest of the nation. The First State struggles to ensure that typically under-served populations—students of color, low-income students, students with disabilities, and English learners receive the services, opportunities, and access needed for success after high school. 
Creating equitable college and career readiness experiences is a nationwide struggle  
When it comes to the basics, the nation fails to provide equitable access to core courses in math, English, and science to high–minority and high–poverty schools.  
No state in the

U.S.

offers

Algebra

I

and

b

iol

ogy in all high schools

—despite the fact that these courses provide opportunities for students to pursue a range of careers. 

 

Nationwide, schools with high populations of s

tudents of color and low-income students are less likely to

offer

basic

college and career prep courses.

 

 
One quarter of schools serving high populations of students of color don't offer Algebra

I

or high

er

, compared to a national average of 20 percent. 

 

One in five schools serving high populations of low-income students don't offer Algebra

I

or higher. Sixty percent don't offer physics or higher.

 

 
Two national longitudinal (here and here) studies document the gaps between students with disabilities and the general population in high school graduation and postsecondary enrollment. Students with disabilities are particularly vulnerable to adults' low-expectations, rarely gain access to rigorous coursework, and aren't given the supports they need (guidance, counseling, and transition services) to enroll and succeed in postsecondary education.  
Racial disparities persist in access to Advance Placement (AP)  
 

From 2013-2017 Delaware increased participation in AP courses by 16 percent across the s

tate, however African American

and American Indian participation fell by four and 20 percent respectively. Latino participation rose by 65

percent

.  

 

Compared to high school enrollment, students of color are underrepresented in AP

participation

. Furthermore, they are less likely than their white peers to pass the AP exam.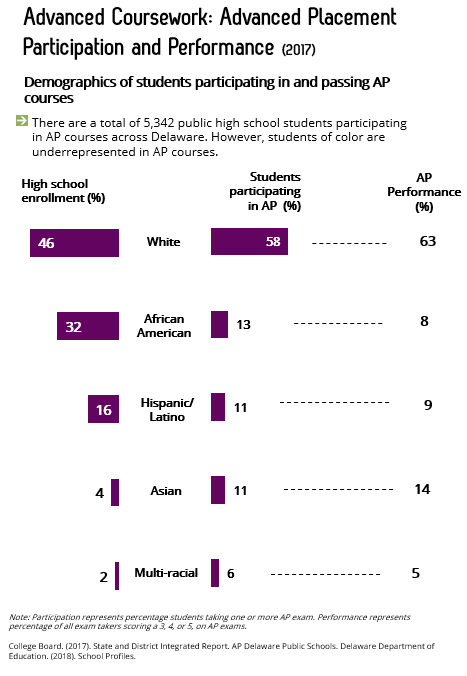 Not all schools are equal in college and career prep  
At both the state level and the school level there is variation in how many students are leaving with a meaningful college and career prep experience.  
Statewide

,

66 percent of high school seniors

met a college and career ready benchmark. Latino, African American, and American Indian students fall considerably below the state average, as do high needs populations. 

 

In some high schools, less than 10 percent of students graduate college and career ready.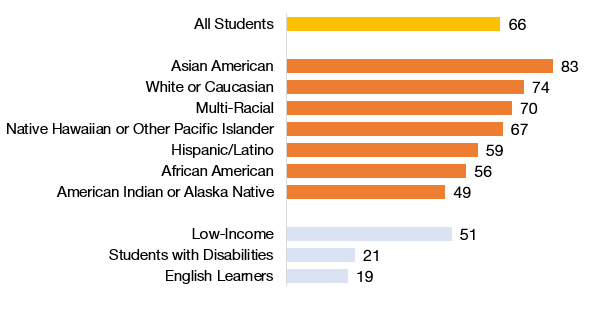 But there are some equity bright spots—that is high schools out-performing the state average in college and career readiness while serving higher than average populations of low-income students. Howard Technical High School, Dover High School, and Woodbridge High School stand out—and may provide other high schools with promising practices in college and career preparation. 
High School

 

Percent College and Career Ready

 

Percent Low-income

 

State average

 

66%

 

37%

 

Howard High School of Technology

 

94%

 

49%

 

Dover High School

 

67%

 

42%

 

Woodbridge High School

 

64%

 

39%

 
Promising Solutions in Delaware 
Community-based organizations, the Department of Education, and state leaders are working on innovative ways to get students involved in college and career prep experiences.  
Delaware's

new school accountability system

provides incentives for

high

schools to

increase access to college and career prep experiences

by providing more "points" to schools for the number of students who are college

and

career ready

—including metrics on advanced course achievement rates

. 

 

The inaugural

Delaware Student Success Conference

will

be

focused on providing professional development and best practices on college and career prep. The conference is

geared toward school and district

teams, community organizations, and institutions of higher education. 

 

 

Community-based organizations such as

TeenSHARP

,

Delaware College Scholars,

Delaware Futures

, 

and

Jobs for Delaware Graduates

prioritize equity by

pr

oviding

high need students with college and career prep experiences.