What We're Reading: National Experts on Reopening Schools
We heard concerns from educators, parents, and the education community at large about reopening schools, and we've examined how COVID-19 will exacerbate summer learning loss for students. In response to these challenges, schools and districts face many tough decisions about learning this fall.
As Education Resource Strategies says, "Everyone agrees that school in the fall cannot look the same as it did before the pandemic. Education leaders must organize people, time, and money to make up for learning losses, help students reconnect with schooling, support students' increased social and emotional needs, respond to physical distancing and sanitation requirements, and provide for teachers and students who don't feel safe attending school or who contract the virus."
Likewise, TNTP resources say, "doubling down on current strategies for catching students up will only widen opportunity and achievement gaps. Schools need to be ready on the first day back with a fundamentally different strategy for diagnosing lost learning and putting every student on a fast track back to grade level—a strategy designed to accelerate their exposure to grade-appropriate work, not delay it."
Now that the state has issued its statewide framework for reopening schools, it's up to districts and charters to complete their own local reopening plans. Here are some of the most informative resources we've come across from national leaders that can help districts and charters as they do the work to plan for the fall and implement new models of learning.
Everyone agrees that school in the fall cannot look the same as it did before the pandemic.
Education Resource Strategies
Resource #1
LEARNING ACCELERATION GUIDE: Planning for Acceleration in the 2020-2021 School Year
Developed by: TNTP
Developed for: To help district and systems-level staff assemble the people, information, and processes to answer the following questions needed to plan for the 2020-21 school year:
How do we create a plan to accelerate student learning?
How do we accelerate student learning in the next two years?
What other challenges should we be anticipating as we plan to accelerate student learning?
Key takeaways: The guide contains principles for accelerated learning that leaders can align their community around, as well as evidence-based pedagogical strategies that help individuals learn more efficiently and retain information longer. It includes actionable tips for:
Addressing Social and Emotional Learning Needs
Diagnosing Unfinished Learning
Adapting Your Scope and Sequence / Pacing Guidance
Planning Additional At-Home Learning
Communicating With Stakeholders
Resource #2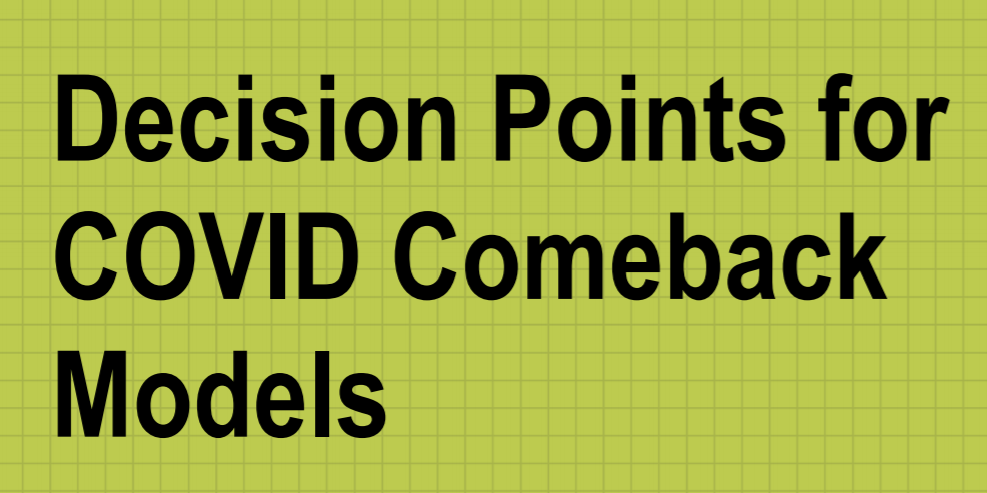 Decision Points for COVID Comeback Models
Developed by: Education Resource Strategies
Developed for: School district leaders to choose and adapt the COVID Comeback School Models that are right for their communities
Key takeaways: The links above include specific tools for districts including:
Sample learning models by grade level
Sample schedules and staffing models for in-person, remote, and hybrid instruction
A calculator that helps district leaders understand the high-level configuration of models that is feasible given staffing and facilities constraints as well as key tradeoffs and resource shifts
Resource #3
Database: District Responses to COVID-19 School Closures
Developed by: Center for Reinventing Public Education
Developed for: District and charter leaders looking for timely information on how other districts and charters across the country are approaching summer school and planning for fall reopening
Key takeaways: CRPE has been watching for reopening plans for 100 districts and 18 Charter Management Organizations and has found but just a handful of districts have released detailed plans so far.
Most districts are in the planning stages and seeking input from the community. Nearly half (49 of 100) of the districts have engaged their community by asking for public input on their plans, usually through online parent surveys. Other forms of engagement include focus groups and public school board working sessions.
As of last week, few districts had released plans. Analysis showed only two districts—Anchorage School District and Henry County Public Schools—had provided information about the learning loss assessment they will use.
As of July 14th, 30 districts have released draft formal plans or public planning materials for fall 2020-21. See here for an analysis of trends and distinctions across those plans. Almost all districts plan to provide some in-person learning this fall but recent virus spread calls this into question.
Check back later for a deeper analysis of district and state reopening plans as soon as more information is released.
Resource #4
Competency-Based Education: State Policy Options for COVID-19 Pandemic Recovery
Developed by: Education Commission of the States
Developed for: State agency or districts and charter leaders looking for examples from other states for how to utilize competency based learning to address learning loss
Key takeaways: Learning loss caused by school closures will likely result in an even wider distribution of student academic achievement. This will require even greater differentiation in instruction for teachers to ensure that students are both catching up and meeting grade-level expectations. Seat-time and credit flexibility allow students to demonstrate mastery on an expedited timeline and with a more individualized approach.
Further reading: The News Journal 2018 article "Why some Delaware students aren't getting A's, B's or C's anymore"