As Child Care Crisis Rages On, Fewer Children Are Being Served. How?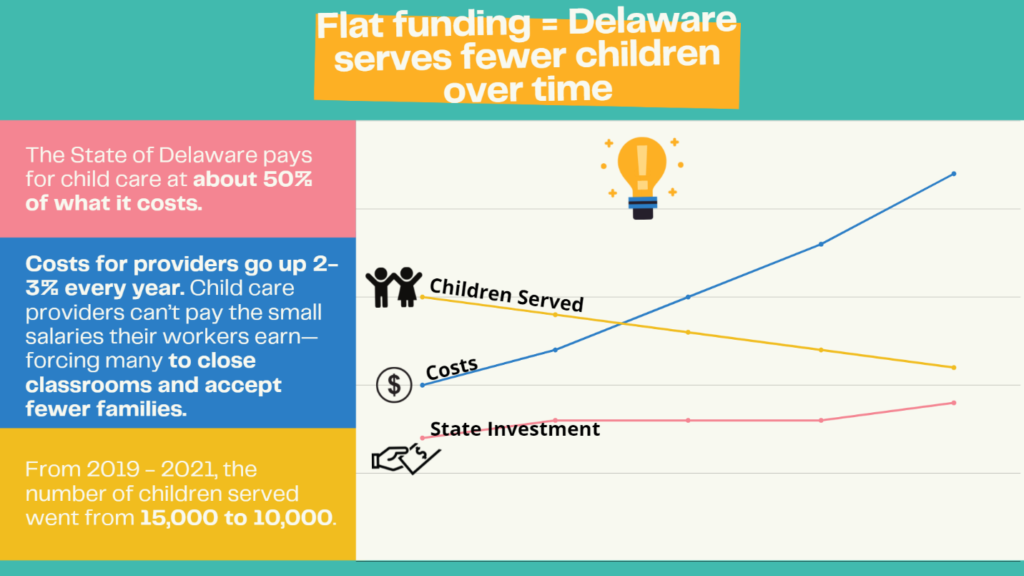 For years, Delaware families have struggled to find affordable, quality child care. Of the approximately 60,000 children in Delaware from zero to five, only a small portion are being served by state-supported programs. The result? Only about half of Delaware children enter kindergarten with a preschool experience. Research shows that children with a strong preschool start do better in K-12, in areas like third grade reading, graduation rates, and reduction in special education services.
Today, Delaware is in a full-fledged child care crisis. Why? Continued underinvestements from the state.
Delaware child care providers are partially subsidized by the state through an investment called Purchase of Care (POC). While providers' costs rise from year to year (not to mention during a pandemic), the state continues to invest roughly the same amount. The result of child care costs increasing and fewer child care providers overall is that families can't find child care. And to complicate matters even further, with fewer providers accepting POC because it doesn't cover the cost of care, fewer children getting the solid start that they need. It is time for the state to support our teachers, our families and our children.
Click here to learn what advocates are saying about the issue.
. . .
Sources for graphic:
State investment:

https://www.dhss.delaware.gov/dhss/dss/files/2021DECostofCare_PreliminaryReportTables.pdf
https://www.dhss.delaware.gov/dhss/dss/files/2021DelawareChildCareMarketRateSurvey.pdf

Cost increases: From direct provider feedback
Fewer served: https://files.ctctusercontent.com/f6736190301/323224bb-e94b-463f-a82c-e7df79051001.pdf?rdr=true
Related Topics: child care, child care crisis, delaware child care, early childhood education, governor john carney