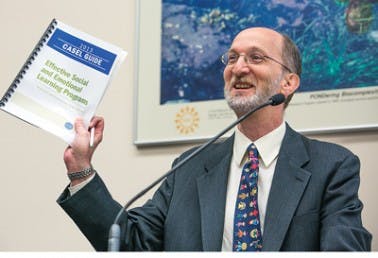 On September 5, Dr. Roger Weissberg, one of the founders of CASEL (the Collaborative for Academic, Social, and Emotional Learning), the leading research and practice organization in the nation on Social and Emotional Learning, passed away at the age of 69.
As Delaware's Secretary of Education, the state's leader on SEL and the head of Rodel, a nonprofit committed to improving education in Delaware, respectively, we wanted to share our condolences and appreciation as well. This letter from his long-time friend, Tim Shriver, paints a beautiful portrait of who he was as a man, so we encourage reading it.
Roger and his colleague, Linda Dusenbury, were incredibly supportive of Delaware's early efforts to expand our thinking on social and emotional learning. And through the national network of practitioners and policymakers we met through CASEL, the state is now seen as an emerging leader. We, along with Delaware Department of Education's many partners, have since built a range of SEL tools and supports for educators, students and parents.
This work of SEL is practical and crucial. It includes the mindsets and essential skills and habits that are needed throughout the lifespan to connect and build relationships, get along with others, appreciate differences, and solve problems responsibly. It's what good teachers have always done: building relationships with young people, not just those who look like us or those who have experienced trauma, but all children, so that they can build the skills to work well with others, and to ultimately become empathetic, thoughtful adults. In the parlance of business, this is about the 21st century skills needed to thrive in the workplace and the community. In the language of parents, this is about educators being partners in helping children become the healthy, caring adults we all envision.
Roger saw the importance of this work sooner than most and he helped us and many others around the world with humility and humor. We appreciated the passage in Tim Shriver's reflection in which he quotes Roger sharing, "Don't worry about who gets credit. The joy is in helping make life better." We couldn't agree more.
Our deepest condolences and heartfelt gratitude to Roger and his family.
If you want to learn more about SEL or CASEL, please go to DDOE and Rodel blog posts and publications.