Boosting Wi-Fi, supporting special needs, and wraparound services: Delawareans share priorities for COVID-19 educational needs
As Delaware and the world continue to respond to the effects of the COVID-19 pandemic, Delawareans identified Wi-Fi solutions for students as one of the key short-term education relief priorities.
In a survey conducted by Rodel, 859 Delawareans prioritized the immediate, short-term needs in the wake of COVID-19, as well as the longer-term needs for when students and teachers resume class. Respondents gave insights into categories such as student learning, family communication, educator support, and wraparound/non-instructional services.
Among the most critical needs, respondents recommended:
Wi-Fi/broadband infrastructure to support remote learning (53% response)
Clear communication to families and educators about what to expect and how to navigate the crisis (53% response)
Guidance and support to meeting specific special learning needs for students, such as Individualized Education Program (IEPs) and translation services for non-English speaking families (50% response)
Access to mental health supports such as school counselors, social workers, and school psychologists (74% response)
Click here to explore the full findings.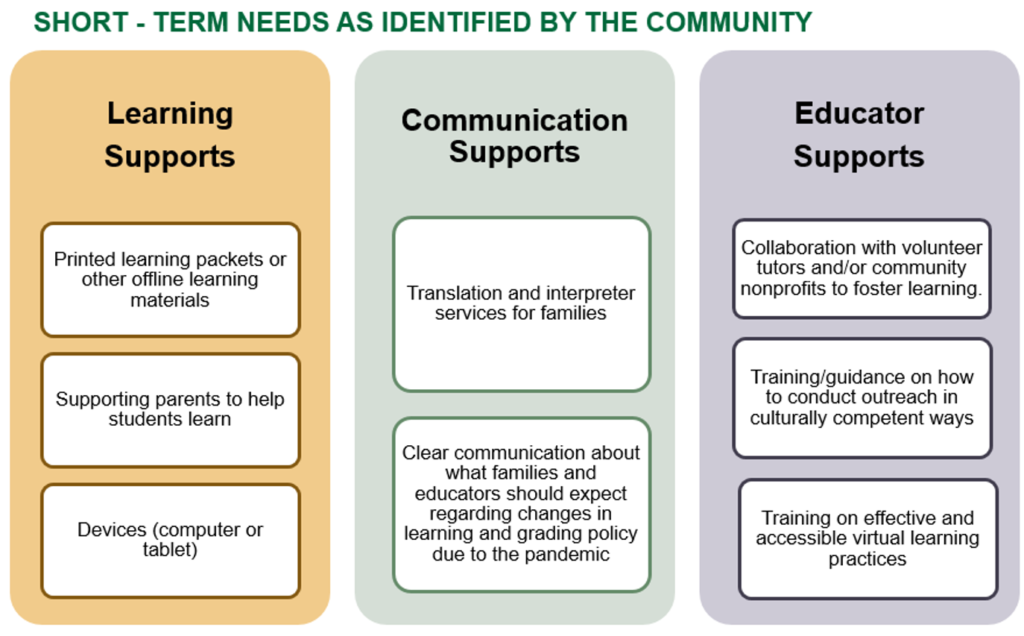 As many researchers and advocates have pointed out, students with special needs—including low-income students, English learners, students with disabilities, and those experiencing homelessness—are especially vulnerable during a prolonged emergency.
The survey aimed to gather information from the community so that Delaware's philanthropic, nonprofit, business, advocacy, and government partners can better serve their constituents during and after the COVID-19 crisis.
"These are unprecedented times in public education," said Rodel president and CEO Paul Herdman. "We have nearly 140,000 students in Delaware not attending traditional K–12 schools, and thousands more attempting to learn remotely from our early learning centers, our colleges and universities. If we do not act aggressively, the "gaps" in opportunity for our most vulnerable young people will become chasms. We risk losing a generation of young people if we don't collectively listen and respond to the needs of our communities and educators."
Most Delaware public schools shifted to remote, online learning by April, and they will operate this way for the remainder of the school year. By fall, many students will have gone the better part of six months without regularly scheduled, in-person coursework.
Forty-three percent of survey respondents identified themselves as classroom teachers, 18 percent identified themselves as parents, and more than 50 percent said they worked with either students with disabilities, low-income students, and/or English learners. This non-scientific survey was distributed through email and social media. Responses were collected between April 8 and April 22, almost four weeks after Gov. Carney's initial Declaration of a State of Emergency on March 12.
The survey results illuminate challenges unique subsets of our population are facing. For instance, respondents who are serving English learner students said "access to certified English learner teachers, programs, tutors, and translator services" are a top priority. While those representing rural students said "access to consistent and reliable internet and transportation" is a key challenge. Survey results are organized by student sub-groups, as well as by county.
What Did Delaware Teachers Say?
"Having a difficult time getting families to consistently participate in the learning opportunities being provided. What is the expectation on the part of the teachers and families, and what is the best way to ensure that kids are getting the same opportunities?"​
"This Schoology thing is WAY too much and we have to do lessons. We hardly had training and I have tech issues daily. Either through parents or files not uploading and Zoom freezes during instruction.​"
"My neediest kids are not being helped at home. They have the Wi-Fi and the devices. They just don't have an adult to work with them.​"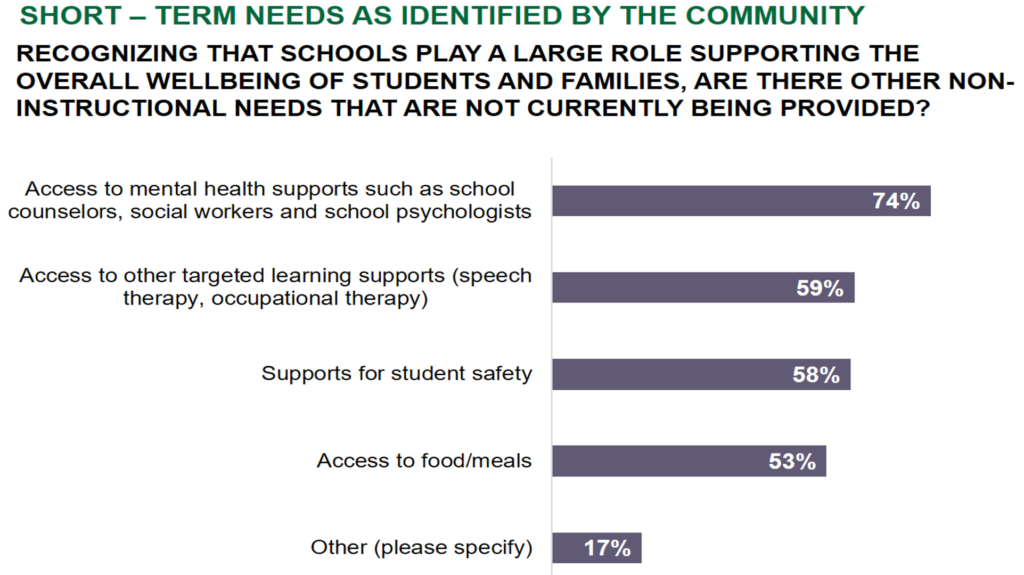 In Delaware:
17% of households in Delaware don't have access to internet
9% of households do not have a device such as a computer, smartphone, or tablet
83% of Delaware households access the Internet at home by paying a cell phone company or internet service provider (NCES Data based on Census, 2016)
State officials have urged families to contact their district or charter school to discuss internet and computer access needs. The state lists a number of free and low-cost internet options on its COVID-19 resources webpage. Some districts and charter schools are also providing families with technology to assist remote learning. Federal stimulus money as well as the support of DDOE and the Delaware Department of Technology and Information will help to increase access to internet access and devices across the state.
Districts and charter schools have developed remote learning plans that take into consideration students who may not have internet or computer access. For specific district and charter school plans, view the remote learning plans.
What's Underway Now?
 Much of the immediate response effort focused on providing devices and meals to students, with some districts surpassing 100,000 meals served by mid-April. Districts and the state are also providing mindfulness and wellness supports; one example is DDOE's partnership with Pure Edge for a 3-week webinar series for educators on Self-Care and Social and Emotional Learning.
Delaware districts use an online platform called Schoology, where educators post learning resources, assignments, and assessments—and communicate with students and families electronically, in addition to other tools.
What ideas did Delawareans share to meet the needs of public school students?
Social workers delivering school supplies and basic needs to families
Utilizing telehealth to deliver check-ups, meetings with medical professionals
Using whatever means necessary to connect with students, such as text messaging
Setting up social online activities for students
Creating a way for teachers to be in touch with students one-on-one while maintaining privacy
Leveraging specialists—teachers of music, art, library, and physical education—who aren't as regularly connected with students
Drop-in online help sessions or Q&A opportunities for parents working with their children
What's Next?
To view the full results of the community survey, visit this link.