Delaware is Rethinking How it Trains and Retains Teachers, with an Eye Toward Diversity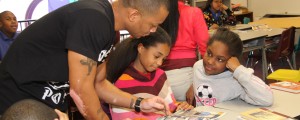 Before COVID-19 shut down our schools, we launched an effort with a strong group of national, state and local leaders to see how we could help increase the training and diversity of teachers in our highest-need schools.
Research reminds us—over and over again—that teachers are the most important in-school factors impacting student learning. And, knowing that many of our most vulnerable students—those with special needs, that are poor, homeless, and/or don't speak English as a first language—will be hardest hit by the need to learn "remotely" this spring, come this summer and fall, our teachers are going to have to do even more to help them catch up.
Read about our newest project: Empowering Great Teachers in Delaware: Teacher Preparation Collaboration Among Delaware Districts and Educator Preparation Programs, 2020-2022. 
We have more than 9,000 teachers and school leaders serving Delaware public schools. Much like the rest of the country, Delaware is facing a teaching shortage. And we struggle with keeping talented and well-prepared teachers in our schools (especially schools serving high-need kids). Often times, in school environments where kids need the most stability, they experience the least. Instead of a steady mix of experienced teachers, children in our most challenged schools experience a rotation of newer teachers that are often overwhelmed, get burned out, and not only leave the school, but often leave the profession all together. About 76 percent of teachers remain in the state beyond their first two years. This constant churn is bad for kids and it's bad for tax payers.
Delaware can also do a better job creating a pipeline of teachers that reflect the student population they serve. In-line with national trends, Delaware's teaching workforce is not very diverse. Having a diverse teaching force isn't just a nice to have. Research shows a more diverse teacher workforce could help narrow the achievement gap, and teachers of color serve as advocates and mentors for students of color by helping them navigate school culture.
There are approximately 138,000 students in 220 schools in Delaware—56 percent of them are of color. Only about 17 percent of our teachers identify as teachers of color (TOC). Adding to our challenge, TOC aren't sticking around. Delaware only retains 50 percent of TOC in the same school after two years and 70 percent in the state, a retention rate that's 10 percent lower than non-TOC.
Thankfully, state leaders are well aware of these challenges and are embracing potential solutions. One way to introduce more TOC to our workforce is by starting earlier. With Delaware's recently launched K-12 Teacher Academy Pathway, high school students are getting the tools and training they need to start their journey as early as high school. And we're excited to report that of the 1,500 Delaware high school students currently enrolled in K-12 Teacher Academy courses—50 percent identify as a person of color.
[Read: From Teacher Diversity to Teacher Residencies, it All Matters at DSU]
And we're encouraged by the state's increased focus on "teacher residency" models. Just as doctors-in-training spend intensive, immersive time training as a hospital residence, some of our future teachers, rather than a six-week practicum, are spending full years inside classrooms, serving as co-teachers alongside veteran educators. While institutions like Wilmington University adopted a residency approach in 2014, more should soon be on the way: The state will invest $1 million in programs this year and plans to expand their efforts to double the number of teacher residencies in three years.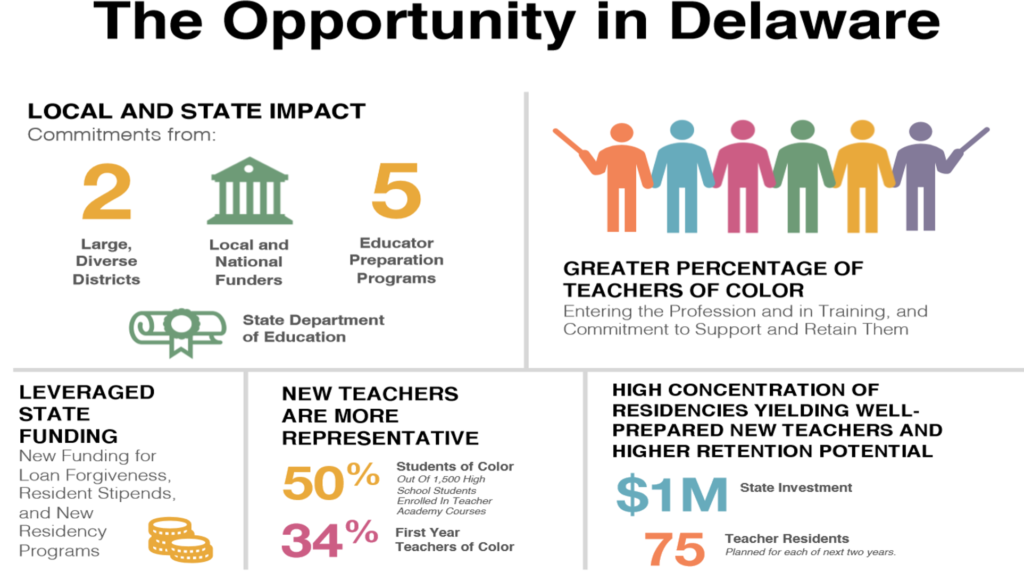 In short, Delaware is on the forefront of leveraging a grow-your-own strategy with significant cultural and policy changes. Delaware's Department of Education will be investing in a range of residency programs (more details to follow), along with a plethora of other efforts, including student loan forgiveness for teachers, a variety of scholarships, and state funding for National Board Certification.
Rodel is proud to be collaborating with two of our largest districts, Colonial and Red Clay, as well as our institutes of higher education, and the Michael and Susan Dell Foundation—on a years-long project that will diversify our teaching workforce, and retain more qualified teachers. We're excited to convene local and national partners, while bringing our project management and research support to the table. We think that, by leaning into the residency model, and focusing on recruiting and retaining new teachers, we can build a more sustainable system that supports kids.
Project Partners:
School District Partners: Colonial School District, Red Clay Consolidated School District
Delaware Educator Preparation Programs: Delaware State University, Delaware Technical Community College, University of Delaware, RELAY Graduate School of Education, Wilmington University
Supporting Partners: Michael & Susan Dell Foundation, Rodel, Delaware Department of Education
And there will be more opportunities ahead, from aligning with DDOE on everything from recruitment tools to exposing teacher candidates to high-quality instructional materials, and exploring new models like "hub schools" where we can give new with meaningful leadership and development opportunities for teachers. The positive momentum underway is critical to higher recruitment and retention rates among TOC, close the teacher diversity gap, and most importantly, connect and support our children in a time when great educators are needed more than ever.