Signing Kids Up for School? Good Luck. The Case for Modernizing Our Registration System
Some Delaware parents looking to register their kids in public school run into some confusing roadblocks.
Currently, Delaware has no uniform, online registration system for families with children entering pre-K, kindergarten or any grade through grade 12, causing families to navigate multiple (largely paper) forms.
This should not be as difficult as Delaware makes it.
The COVID-19 pandemic has made the need for an online common process more apparent as much of life has become virtual. The state also already operates an online common data system and school choice portal. Last session, a bill was introduced to create a common, online process for kindergarten registration, but ultimately, the proposal did not pass. Legislators have the opportunity to build upon and approve a uniform registration process in January.
Why do we need a uniform registration system?
With 2021 technology, there's no reason Delaware can't adopt a modern, one-stop digital shop that allows families to choose the option more convenient for them—paper or online, and in multiple languages. Ultimately, a common, uniform system would simplify the process for families and districts, enable schools to engage with families and plan in advance of the school year, and integrate data systems.
There are currently 29 school districts and charter schools in Delaware that provide kindergarten and 41  that accept students in other grades; each with its own registration and enrollment process. Parents are often asked to fill out paper forms in-person at schools during the workday. In kindergarten alone, there are 29 different registration systems.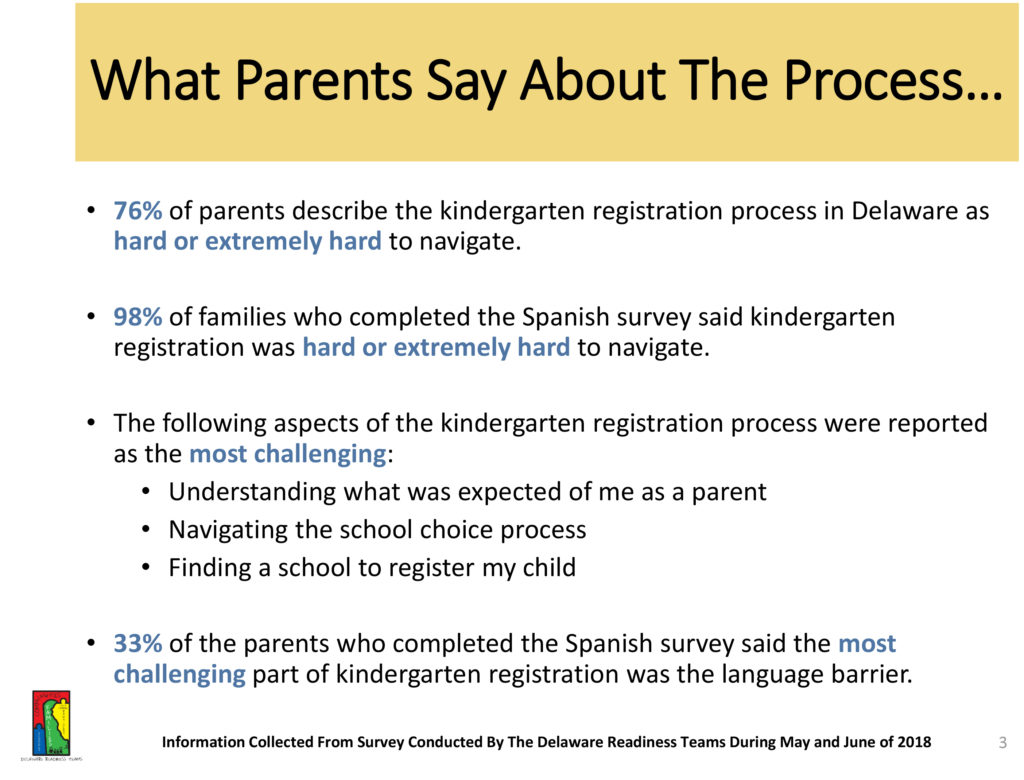 A 2018 Delaware Readiness Teams survey asked families about their experiences with the current registration system While the survey only looked at kindergarten registration, the message is clear: an uncoordinated, paper registration system is confusing and burdensome for families. Takeaways from the survey include:
On average, seven (often repetitive) forms are required for kindergarten registration.
Three out of four caregivers call the registration process hard or extremely hard.
If families utilize school choice, they must fill out two more sets of forms.
Almost 100 percent of Spanish-speaking families who took the survey believe the process is hard or extremely hard.
A uniform registration system would simplify the process not just for families, but for schools too. Currently, district and charter staff have to coordinate paperwork and manually enter data from paper forms. A common, online system would be much more efficient. As reported by Tech Impact, an online common enrollment system would also help schools modernize and meet the needs of families. A uniform system further helps schools by giving them accurate student counts, which drive teacher hiring, supplies, classroom set up, scheduling, accurate and efficient bus routes and transportation scheduling. A common, online system also helps align data across schools, districts, health systems, and departments—making it easier for these entities to holistically support children every step of their development.
Some districts have begun to develop common forms and processes for kindergarten registration. The state also already requires districts and charters to collect some common information and has privacy protections in place to protect it. Since some of this work is already in progress or done, this year presents a great opportunity to scale and expand these efforts.
What's been proposed?
The state Department of Education has committed to implementing a common registration system in two phases. Phase I would include moving pre-K, kindergarten, and new student registration online and into the pre-K to 12 attendance system. Future phases would include the integration and alignment of data across grade bands, health systems, and departments. While this is movement in the right direction, there are still many unknowns, such as: when the online registration system would be available for families, whether the system is comprehensive, and if participation would be required.
Looking ahead to the upcoming legislative session, we look forward to working with policymakers to build on Senate Bill 150  (2019) and require an online, uniform registration system for all grades from pre-K to 12 for  the 2023-24 school year that would:
Create an online and paper common registration process and require the forms be provided in English and Spanish.
Require a uniform process to be used by all LEAs that would include all necessary documents required for registration to be completed.
Establish a process for supporting a parent to register a child for pre-kindergarten or kindergarten well in advance of the school choice period from November to January.
Related Topics: Delaware, delaware schools, equity, school registration, schools