Celebrating Success: Statewide Pathways Foundation Built to Last
Delaware Scaling Work-Based Learning, Industry Credentials, and Academic Credit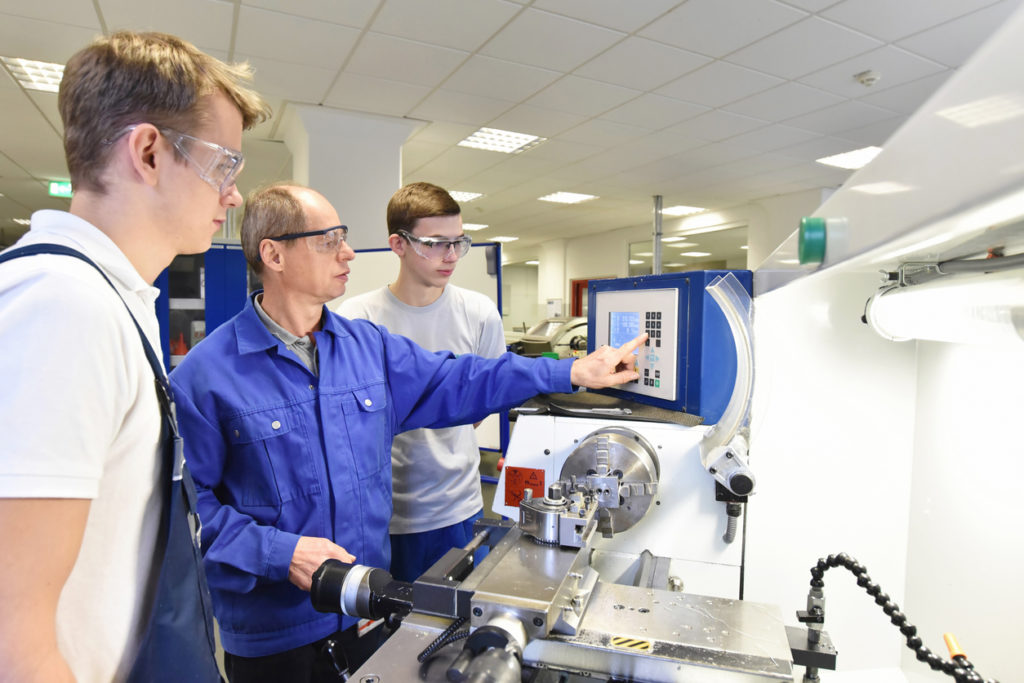 In the 10th grade, a student at Appoquinimink High School heard a guest speaker one day at his plant science class—a rep from Landcare, a nationally known landscaping company. In 11th grade, the student met the company's HR director at the school's Workforce Readiness Fair. In 12th grade, the student embarked on a two-week, immersive "work-based learning" experience at the company, where he went through the paces of an everyday employee.
By graduation, the student will have a full-time position awaiting him and a broad range of options for growth.
For this student jumping into the workforce right out of high school was his preferred path. For others, going on to an apprenticeship or a four-year degree is what might make sense. Pathways is about choices. We want our young people to maximize their potential and by giving them meaningful work experiences and opportunities to advance their learning while still in high school we feel as though we're expanding their options.
These types of stories are happening by the thousands every school year across Delaware. As our school leaders continue to navigate the school year and rebound from COVID-19, one pre-pandemic innovation remains stronger than ever. Our state continues to shine as a national leader when it comes to providing real world career experiences for students while they sharpen their academic skills in high school.
When Delaware Pathways first launched in 2015, it was a small but dedicated web of partners linked through William Penn High School and Delaware Technical Community College. It was clear the world of work was changing—and a disconnect between career training and K-12 education was scattered, at best.
Employers needed more, and the education system responded. Economic projections suggested that by 2025, 65 percent of jobs would require at least some education beyond high school. Not necessarily a four-year degree, but an apprenticeship or associates' degree, was going to be increasingly important. Today, with more than 50 percent of all Delaware high schoolers, hundreds of employers, and just about every public high school in the state engaged, we believe parents are coming to see that this is more than an initiative for kids who don't want to go to college. This is an initiative for all young people—whether they want to go to med school, get involved in IT or pursue a career in construction.
Pathways relies on a model that looks similar to what our vo-tech schools have been doing for years: building connections between local schools, local businesses, and community organizations—to give young people a firsthand look at life after graduation. Pathways build on that approach by starting earlier, as early as middle school, and going broader, we now have up to 24 career paths, many of which go beyond the traditional trades and allow for students to get a head start on college and/or a national certification, like a Certified Nursing Assistant. This can allow them to "earn and learn" if they want to start working after high school and have the option of continuing their education. As important, it may give them a chance to figure out what they don't want to do.
In just the last three years, Delaware efforts skyrocketed. Thanks in part to some catalytic partnerships with the likes of JPMorgan Chase and Bloomberg Philanthropies, our state built public-private partnership across state agencies, nonprofits and employers​—including a new Office of Work-Based Learning at Delaware Technical Community College. Those connections led to a growth in enrollment from 27 to 23,000. Today, pathways offers students the opportunity to earn an industry-recognized credential, early college credit, and relevant work experience in key industry sectors such as: agriculture, education, finance, health care, hospitality and tourism, engineering and science, information technology, and manufacturing.
Delaware's pathways progress—in growth and scale—caught national attention. Within a few years, Delaware has become recognized as a national leader​: We were the subject of case studies from Harvard and R Street; recognized in the New York Times, Education Next, and the Georgetown EduNomics Lab.
Among our state's core strengths are its ability to collaborate across sectors and braid funding streams. Over the years, we've leveraged and braided $23.75 million in funding on top of some new state support from the likes of JPMorgan Chase, Bloomberg Philanthropies, as mentioned, as well as Strada Education Network, the Delaware Business Roundtable Education Committee (DBREC), and a raft of federal grants.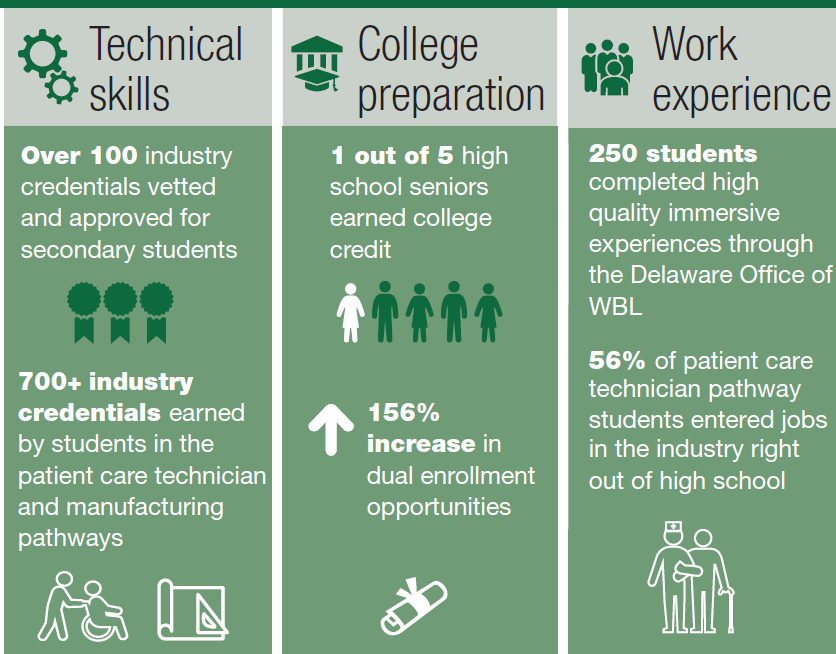 Career pathways are simply part of Delaware's high school and postsecondary DNA today.
As Jobs for the Future recently wrote, states across the country are rightly "blurring the lines" between high school, college, and work. Delaware is a proud contributor to this national conversation.
Check out this newly released report from RTI to see what Delaware leaders have learned from the last few years. And stay tuned to our blog in the coming weeks, as we explore a new era for career pathways in Delaware.
Related Topics: career pathways, career prep, Delaware education, delaware pathways, delaware schools