"I'm Proof That it Works." Talking Teacher Residencies with Tameka Wingo
It took a lot of soul searching for Tameka Wingo to make the decision to change careers. But the former marketing professional knew that her true calling was teaching.
So Wingo enrolled in the RELAY Graduate School of Delaware's alternate route certification program, which provided her an immersive teacher residency at Thomas Edison Charter School. She currently teaches at New Castle Elementary School.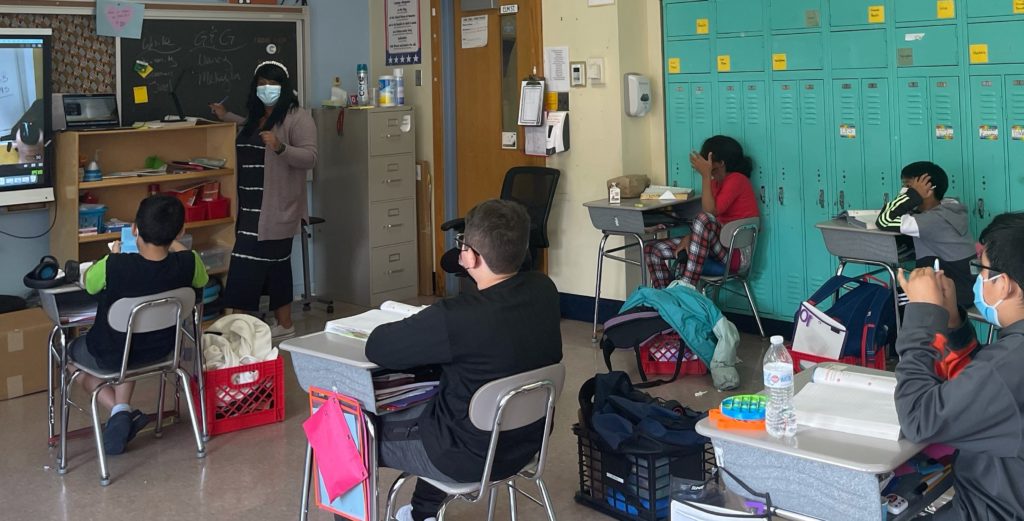 How did you first get engaged with RELAY Graduate School of Education?
I joined RELAY through Teach For America in 2016. I had a career change, I went to school for marketing. I worked in marketing for eight years and then I decided to go toward what I thought was my true calling.
I finished the alternate route certification program in 2018. It is a master's level program where you are simultaneously teaching and completing a master's degree program with Relay GSE.
I love RELAY Delaware. They're just an awesome crew of people and they continue to be connected to the people who come through the school.
Today I just finished my fifth year of teaching at New Castle Elementary, and I still am in partnership with RELAY by hosting a resident advisor here now.
Some of the methods RELAY employs in their training are unique. How do they differ from a traditional teacher prep programs?
With RELAY, they call it a gradual release. So it's a release of responsibility as you're learning, so it's less of: "I'm going to throw you into it and you just figure it out and flounder."
Instead, you develop as you learn and you can apply your own learnings into a live classroom. So it's definitely a safer place to learn, and it's also a good place for you to be able to get feedback from your professors, from your classmates, and then go into the classroom the next day and try it out. They are very intentional in how things are released. They know the first thing that you should be doing is building relationships with your students, creating a classroom culture.
And I think that it does foster a more defined classroom culture, have a more defined sense of routines that are important in the classroom, to help you teach and then to help you want to continue to be a teacher. I think that, and this could be just my assumption, but I think that a lot of times, teaching can be frustrating sometimes when you're trying to plan, when you're trying to understand content as well as managing a classroom. And I think that classroom management is a huge piece, and I think that's why they knew to put that first, which makes it a little easier and helps with retention.
We sometimes describe the teacher residency model as similar to a doctor-in-resident at a hospital. What was your experience with this immersive model?
It was different to get used to, just because I didn't come from an education background. But as we went through it, I understood it.
And now, being on the other side of it, it's much clearer how other people can learn best in that manner. Being part of a classroom helps you prioritize what you need to improve as a teacher. You're learning in a classroom. So you don't get too bogged having to study too much all at once; it reduces that anxiety.
In the RELAY model, I was in a classroom all day, and taking courses on weekends. It makes you more prepared and feel supported.
What did the kids think about having a co-teacher in the room, what was it something interesting for them or are they used to having multiple adults in the classroom these days?
My current resident, Ms. Brown, was here from day one. To the students, they just know that she's their teacher. So even as we are releasing responsibilities and roles, the students don't see that, they still see her interact with them.
She starts off with morning meeting. They come to both of us for things. And as she's growing and taking on more responsibility and teaching more content, they treat her the same because all they know is that's their teacher. And I was going to say, thankfully, building the relationship between me and her being partners and having that partnership to the kids, it shows teamwork.
I'm proof that it works. And the teachers that you've been able to keep from these residencies, they're better prepared. They feel more supported and your students are going to benefit from it in the end.
Tameka Wingo, teacher, New Castle Elementary School
You talked about being a career changer; just overall, do you feel like you made the right choice?
Oh, definitely. I love being a teacher. It took a lot of soul searching for me to change careers and it was scary because I spent so much time and money and school to work in marketing. And I liked marketing!
But I feel better about what I do, I feel like I have a purpose and I'm just meant to be the teacher for the students that I've come in contact with. I still keep in contact with parents and check in on my students that are older now in middle school and high school. I think that just having that purpose and seeing my students grow, whether it's academically, socially, just any way, that warms my heart.
What are some pearls of wisdom you find yourself passing along that you kind of learned on the way when you were a resident?
Definitely economy of language, that's something I learned in RELAY. Don't over-talk, because you're going to lose them. And then just also some behavior strategies with students. Some students work well with charts and some students don't, and some students are able to self-manage themselves.
One thing that stuck with me in RELAY and throughout my teaching, and I try to pass that onto my resident is fair isn't always equal. And sometimes we have to meet our kids where they are to help them be successful. And we have to do anything that we can possible to provide them access in what we're teaching them. So if you have a student that you're teaching multi-digit addition and subtraction, you have a student that's still working within 20, they can still participate in the lesson.
I don't think that I would have received those nuggets from a different teacher prep model. With a residency, you're able to get feedback in real time and apply it in real time. I think that because of that real time, it'll stick to you more. It's less so of, "What did I remember from sophomore year?" … Like what do y'all remember from yesterday?
Delaware is investing in more teacher residency models. Is that a good idea?
I'm proof that it works. And the teachers that you've been able to keep from these residencies, they're better prepared. They feel more supported and your students are going to benefit from it in the end.
When you're able to apply what you're learning in a classroom, get that real-time practice, it makes it less likely that you're going to flounder that first year. Because they're still trying to put the pieces together, as opposed to getting the piece of this put together as they're going.
Related Topics: delaware schools, relay graduate school of education, Teach For America, teacher prep, teacher residencies, teacher residency