Re-Opening Our Schools is Important, But It Won't Be Easy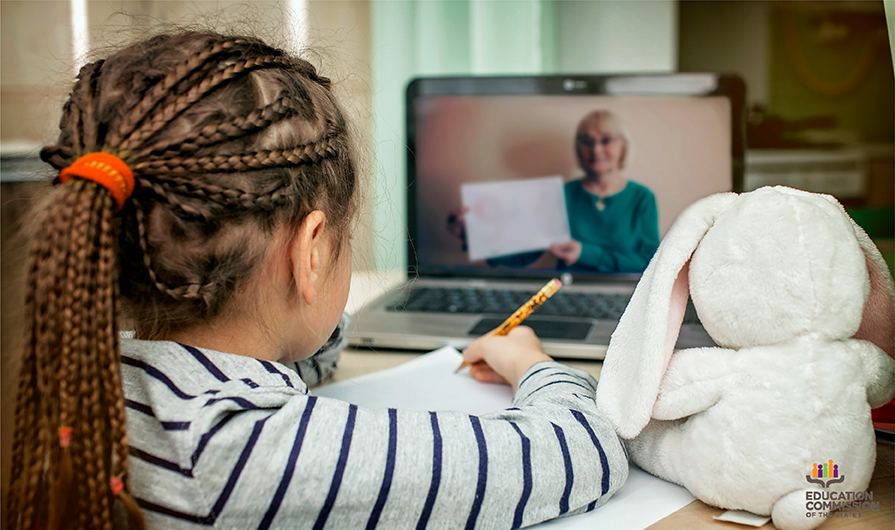 At Governor John Carney's press conference this week, Secretary of Education Susan Bunting laid out the state-developed guidelines for school re-opening.
After four months of valiant attempts at remote learning and DIY summer camp, parents and kids are more than ready for school to open, if it's safe. Getting kids back in their classrooms is, and should be, the goal, but science should drive the decision, and it's going to take a lot more funding and coordination to do it right.
Intuitively, we know that for the social, emotional and academic development of our kids, getting back to in-person school is important. The American Academy of Pediatricians said recently in an open letter co-signed by educators that while "children learn best when physically present in the classroom," public agencies "must pursue re-opening in a way that is safe for all students, teachers, and staff."
The question around safety is a big one. As of this writing, Delaware's five-day average of positive COVID-19 tests was just 3.3 percent. That's below the five-percent threshold the World Health Organization has designated as one of the indicators for telling whether the virus is controlled. That's good news.
Nationally, there has been political pressure to open schools at full capacity, but locals are going to have to make decisions that make sense for them. President Trump has called on all schools to re-open in-person, and suggested that his administration would withhold funding if they didn't. If and when schools open, it might look very different.
At the end of the day, the decision is going to be made in Delaware, not D.C. Constitutionally, how and when schools open are state and local decisions. And in terms of federal funding, that decision is a joint one between the executive and legislative branches, so my hope is that the threat of actually withdrawing federal funds for children who qualify for free and reduced price lunch is small.
With six weeks to go before a new school year, what "school" will look like is now up to Delaware's 23 charter schools and 19 districts. The state has released guidelines from three working groups—one each focused on Health and Wellness, Academics and Equity, and Operations and Services—to help the locals make their plans. (See our blog for more detail on the state guidance.)
Developing plans for three re-opening scenarios—mild, moderate, and significant community spread—as the state guidance suggests, is complicated (See our blog for more detail). Just getting the buildings and buses ready with good ventilation, Plexiglas, cleaning supplies, and protective equipment will be a massive undertaking—but those are just the basics.
Teachers will have to put in more time to fundamentally rethink how they assess, engage, and teach kids remotely. With many more households dealing with unemployment, stress, trauma, and health challenges, schools will need to build in more social and emotional supports. Schools have to plan for in-person or remote instruction for students or teachers who decide to opt out because they have underlying conditions. This planning gets especially complicated if a child has special needs or doesn't speak English as a first language. And for our most vulnerable children, schools will need to figure out how to not only educate them, but get them food and health care if the school building is their primary source of those services.
There is no one best path to school reopening, so local educators, parents and health experts are going to have to use their best judgement. There are plenty of toolkits from national organizations (See our blog for more details). And we can look to international best practices from McKinsey, but exemplars like Finland or Germany have a small fraction of the COVID-19 cases the U.S. has, so it's a bit of an apples-to-oranges comparison.
Assuming we don't see a major surge in cases here, the most likely option is that most charters and districts will put forward a hybrid schedule where students alternate between days of in-person instruction and remote learning. Districts around the country are exploring many approaches, but this hybrid pattern is being adopted in some big districts like New York, Miami, and Chicago, but others like L.A., are starting with an all-remote approach.
As we do this, a few thoughts on how we all can help our schools re-open.
Our U.S. delegation can help us, and schools across the nation, with more federal funding. National estimates are upwards of $200 billion; that's a lot, but necessary to get schools the additional staff and equipment they need.
Our leaders at the state and local level can work together to assess the biggest needs and use our collective power to bridge the gaps. For example, Tech Impact, a local nonprofit is working with a range of public and private stakeholders to address the digital divide in Delaware by developing an inclusive plan that addresses everything from devices to access. Social Contract, a group committed to equitable education solutions, unveiled a new effort called WAVE that creates online opportunities for small groups of kids to have fun and do more than academics. These are great ideas, and we need more. It makes no sense for 42 local education agencies to acquire cleaning equipment, diagnostic testing, online content and training independently. We need to coordinate and create some economies of scale.
Our parents and community leaders can engage with our schools to make this work. Our parents shared in our recent survey that they are understandably confused and nervous about the path forward, but they also shared that last spring made them want to be even more engaged in their child's education. This is an opportunity for them to provide more input on what's working (and what's not) and for districts and charters to build deeper partnerships with their families.
These uncertain times call for committed leadership and humility. In Delaware, we know one another and we know how to work together. We owe it to our kids and our educators to make this work.
Related Topics: covid-19, Delaware, Delaware education, delaware schools, Education, reopening schools, schools